We are both HUGE Masterchef fans, especially Masterchef Australia. There is just a sense of 'niceness' amongst the judges and contestants that gives us so much feels, you know? Plus, it's worth it just to see Gary's face light up whenever there's crackling or a good caramel on the table, not to mention seeing George's many scowls (think mini Despicable Me's Gru!) when he isn't impressed.
It is season 8 now and a week or so ago it was Nigella Week. Yup, the Nigella Lawson. The British domestic goddess brought her food, her charm, her way with words and her appetite down under. Loved it! We came across this dish during one of the pressure tests (to quote James Blunt, "so long Jimmy"), in which contestants had to cook three of her dishes. Once we saw how simple it was to make, how fresh and tasty it looked, we knew we must try it, especially since we have a can of beautiful crab meat in the fridge we've been dying to open.
Of course, we added our own twist to the crab salad (you can get the original recipe as it was presented on Masterchef Australia, here), throwing in some bird's eye chillies and curry leaves for a little more zing and some creamy mozzarella as an extra treat, among others. This is the perfect dinner after a weekend of heavy indulgence. Let's just say, how wonderful it is to not have to turn on the stove once in a while. No oil splatters, no massive cleanup. This meal afforded a well-deserved rest for our tummies and our hands!
But if you, like Marc, find that you can't do without a little carb, then pair this meal with some deliciously crispy bruschetta (such as our air fried roasted garlic and tomato bruschetta). This meal serves two comfortably, but it can feed four as an appetizer.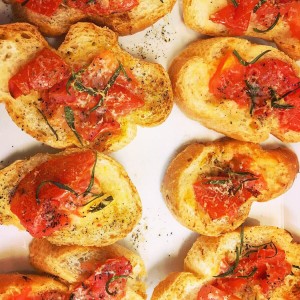 Ingredients
1 1/4 cups crab meat, liquid drained
2 1/2 tbsp mirin
1 tsp wasabi paste
1 1/2 tbsp white rice vinegar
1/4 tsp sesame oil
1/4 tsp salt
1/4 tsp fish sauce (optional)
1 tsp lemon juice
2 green bird's eye chilli (chilli paid), finely chopped
1 mild, sweet chilli (or 1/2 red capsicum), finely chopped
1 tsp finely chopped spring onions
1 tsp finely chopped curry leaves
4 cups baby spinach
1 ripe avocado
30 g buffalo mozzarella, torn into rough chunks
1 tsp chopped chives
Instructions
To make the wasabi dressing, whisk the mirin, wasabi paste, rice vinegar, sesame oil, fish sauce (if using), and salt together in a large bowl.
Taste the dressing and add more salt if necessary (especially if omitting the fish sauce). It is okay if the mixture is just a tad on the salty side as the plain crab meat will balance it out.
Separate 4 teaspoons of the wasabi dressing into a smaller bowl. To this, add 1 teaspoon of lemon juice and mix.
To the large bowl of dressing, add the red chilli, bird's eye chillies, spring onions, curry leaves and crab meat. Mix well and use a fork to break up any large lumps of crab meat.
When ready to serve, lightly dress the spinach leaves with the separated wasabi-lime dressing, mixing well using the tip of your fingers to avoid bruising the leaves and to ensure all the leaves are coated. Immediately divide the dressed spinach leaves onto serving plates.
Divide the crab mixture evenly into the number of desired servings. If serving four, pack each crab portion into a 1/3rd-cup measure and turn over onto the centre of each serving plate, in the centre of the bed of spinach. You can use a small bowl as the mould if serving two.
Using a spoon, scoop out the avocado and distribute around the crab, followed by beautiful white chunks of mozzarella.
Sprinkle chopped chives on top of the crab and serve.